Differential Pressure - Primary Flow Element
The flow element consists of a body and wedge flow restriction. This restriction creates a differential pressure in proportion to the square of the volumetric flow rate.The wedge restriction has no critical surface dimensions, or sharp edges, that will affect measurement accuracy as the result of normally expected wear. Matched with ABB Differential Pressure Transmitters, this flow meter provides a solution for most harsh applications.
Measures Liquids, Gas and Steam
High Accuracy ±0.5% of rate
Bi-directional flow
Low Reynolds number measurement (as low as Rd 500)
Minimum upstream and downstream piping requirements
Standard sizes 0.5" to 24"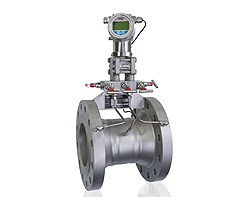 FPD570 WedgeMaster, Compact wedge meter
WedgeMaster compact wedge flow meters, offer a focus on providing solution-solving flowmeter systems, coupled to the latest in ABB transmitter technology. Having no moving parts and no tendency to wear or foul, WedgeMaster devices are the logical choice when there are concerns over meter performance and longevity. In addition it performs at very low Reynolds Numbers and with short upstream straight pipe lengths.
One-stop source for the complete Wedge meter package
– Purchase all the components from one supplier using a single ordering code, saving cost in procurement and order-progressing activities.
Reduced cost & space for process piping
– Requires as little as 5D upstream and 2D downstream of straight pipe, saving on expensive provision of pipework and space.
Excellent turndown & long term stability
– no critical surface dimensions to wear; durable design and construction
– maintains flow characteristics down to Re 500, offering wide flow turndown, even with more-viscous fluids.
Easy, Low Cost, Accurate Installation
– Reduces installation cost by up to 50% compared to a traditional DP system.
– Assembly, Leak Testing and Basic Configuration has already been done before shipment
WM-Series
The WM-Series Wedgemeter family has a solid V-shaped flow restriction which makes it extremely robust. It is bi-directional and is particularly suitable for fluids with a high solid content, erosive/abrasive fluids and those with a high viscosity. The WM-Series Wedgemeter family measures liquids, gas and steam.
The smooth flow path has good self-cleaning characteristics and performance is not dependent on maintaining sharp edge profiles. The element design allows solids to pass through the restriction without accumulating. The meter characteristic remains constant down to low Reynolds Numbers, making it suitable for high-viscosity liquids.
When used with high-viscosity liquids or with liquids which could block conventional small-bore impulse pipework, versions with large bore tappings or tappings to take chemical tee DP transmitter elements are available.