---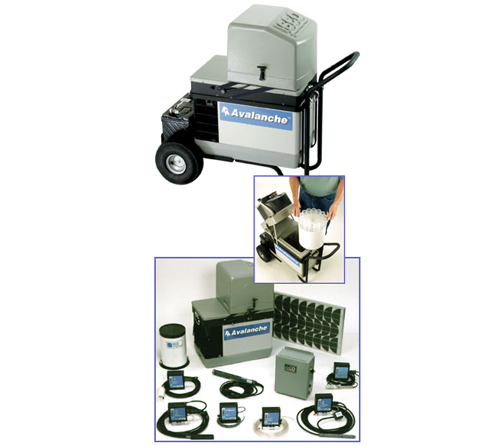 Avalanche® Multi-bottle, Multi-function Sampler
Advanced sampling and data logging with transportable, dual-power cooling.
The Avalanche® Sampler is based on the industry-leading 6712 controller. Avalanche provides the advanced control, data logging, and communication features of the 6712, combined with on-the-go cooling from either AC power or a 12-volt deep cycle battery. Bottle configurations include 5 gallon and 2.5 gallon composite as well as 4 x 1 gallon and 14 x 950 ml sequential.
Like the simpler, composite-only Glacier sampler, Avalanche delivers 48 hours or more of refrigeration from a 12 volt deep cycle battery. Its power-saving cooling system remains on standby until the first sample is drawn, and then switches on to preserve the collected samples until a convenient pickup time. You can easily enter complex programs to suit your unique needs. Available routines include: pause and resume for intermittent discharge flow monitoring; sampler pacing by time, non-uniform time, flow or external event; and random interval sample collection.
---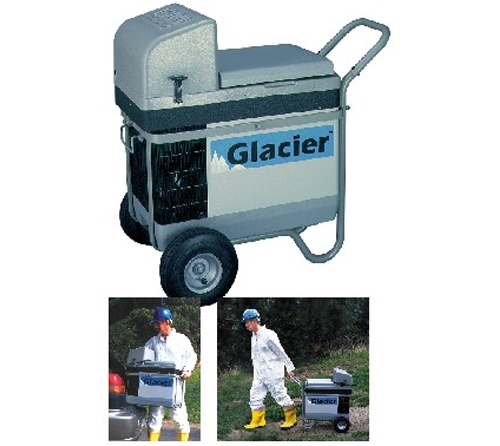 Glacier® Composite Sampler
It's a brand new kind of sampler!
The Glacier Sampler combines the small size, light weight, and mobility of a portable with an exclusive new active temperature control system. Its revolutionary design gives you the best of all worlds: easy transport, quick setup, and accurate sample preservation – without reliance on ice or utility power! An optional Mobility Kit with aluminum frame and pneumatic tires lets you wheel Glacier even over rough terrain to remote sampling sites.
In the field, Glacier delivers 48 hours or more of refrigeration from a 12 volt deep cycle battery. Its power-saving cooling system can be set to standby until the first sample is drawn. Glacier can wait patiently for days or weeks to collect event-triggered samples, and then preserve them until a convenient pickup time. For even greater versatility, Glacier also plugs into a 120 or 240VAC outlet to run on AC line voltage