---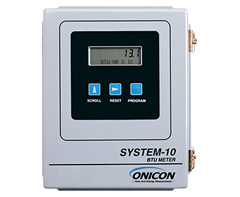 SYSTEM-10 BTU METER
The System-10 BTU Meter is a highly accurate microprocessor-based instrument designed to provide full energy, flow and temperature data both at the front panel LCD and over an optional serial network interface. The System-10 is also available with optional analog output signals for energy, flow and temperature. The System-10 is the ideal choice for networking to control systems with the availability of BACnet®, MODBUS®, LonWorks®, Johnson Controls-N2®, Siemens-P1® interface cards.
Typical Applications
Chilled water, hot water and condenser water systems for:
Commercial office tenant billing
Central plant monitoring
University campus monitoring
Institutional energy cost allocation
Performance / efficiency evaluations
Performance contracting energy monitoring
Cogeneration heat recovery monitoring
ONICON Measurement Solutions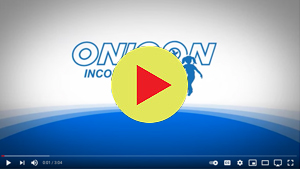 ---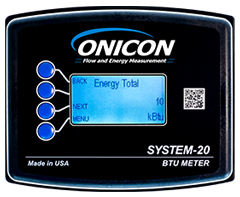 SYSTEM-20 BTU METER
The System-20 BTU Measurement System provides highly accurate and reliable thermal energy measurement in heating and cooling systems. Designed for maximum versatility, the System-20 provides energy, flow and temperature data on the local display, and communicates via RS485 BACnet® MS/TP or MODBUS® RTU directly with your BMS/BAS. In addition, the System-20 provides an analog output signal, pulse outputs, and auxiliary pulse inputs, all of which are configurable via an intuitive user interface.
Typical Applications
Chilled water, hot water and condenser water systems for:
Central plant monitoring
Campus energy monitoring and cost allocation
Performance/efficiency evaluations
Energy monitoring for performance contracts
AHU and CRAC units for commercial office tenant billing
Solar, geothermal and ground-source energy monitoring
Residential apartment and condominium tenant billing
---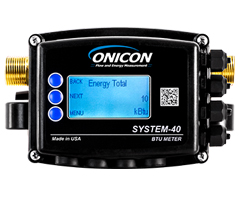 SYSTEM-40 BTU MEASUREMENT SYSTEM
The System-40 provides highly accurate thermal energy measurement in chilled water, hot water or condenser water systems. It is provided as a complete meter and includes a matched pair of platinum RTD temperature sensors and an integral inline ultrasonic flow sensor. It is available for use in ½" through 2½" piping systems with flow rates ranging from 0.03 to 250 GPM.
The native BACnet® MS/TP and MODBUS® RTU versions of the meter communicate energy, flow and temperature data directly to the network. Three auxiliary terminals can be configured at the factory to provide pulse outputs, inputs, a combination of the two, or even a single analog output.
Pulse outputs provide volume or energy totalization to the BMS.
Pulse inputs can bring in totalization pulses from local meters such as water, natural gas, or electric meters. Pulse input totals are accumulated in the internal registers and then transmitted to the RS-485 network. These totals are also available on the built-in display.
Analog output can be programmed to provide energy rate, volume rate, or temperature data to the BMS via a 4-20 mA / 0-10V / 0-5V signal.
Typical Applications
Chilled water, hot water and condenser water systems for:
Commercial office tenant billing
Residential apartment and condominium tenant billing